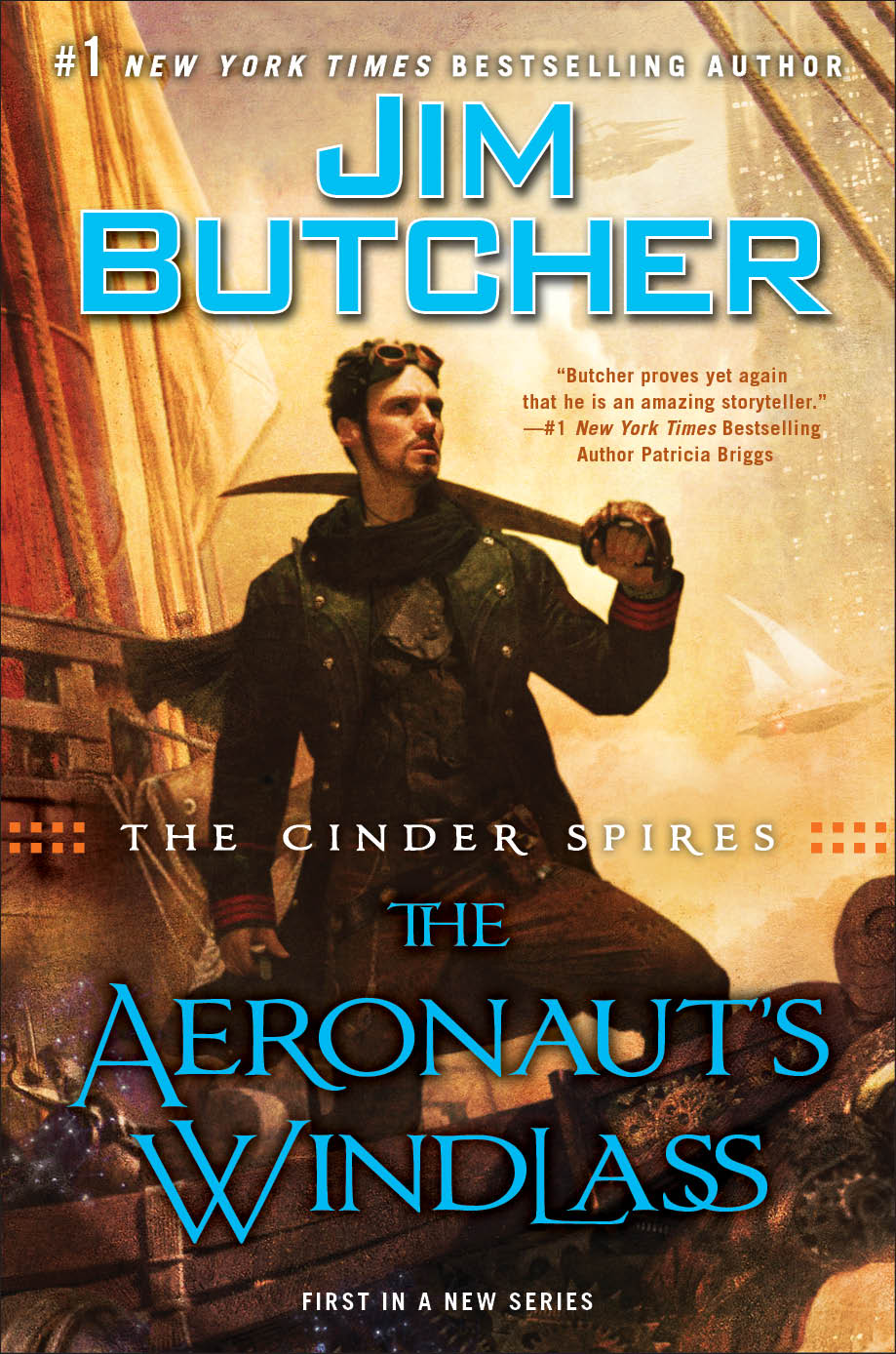 Jim Butcher did a Q & A and a book signing at Murder By the Book in Houston Texas for his new release,
The Aeronauts Windlass
, the first in his Steampunk series, Cinder Spires.
Jim Butcher, the #1 New York Times bestselling author of The Dresden Files and the Codex Alera novels, conjures up a new series set in a fantastic world of noble families, steam-powered technology, and magic-wielding warriors…
Since time immemorial, the Spires have sheltered humanity, towering for miles over the mist-shrouded surface of the world. Within their halls, aristocratic houses have ruled for generations, developing scientific marvels, fostering trade alliances, and building fleets of airships to keep the peace.
Captain Grimm commands the merchant ship,
Predator
. Fiercely loyal to Spire Albion, he has taken their side in the cold war with Spire Aurora, disrupting the enemy's shipping lines by attacking their cargo vessels. But when the
Predator
is severely damaged in combat, leaving captain and crew grounded, Grimm is offered a proposition from the Spirearch of Albion—to join a team of agents on a vital mission in exchange for fully restoring
Predator
to its fighting glory.
And even as Grimm undertakes this dangerous task, he will learn that the conflict between the Spires is merely a premonition of things to come. Humanity's ancient enemy, silent for more than ten thousand years, has begun to stir once more. And death will follow in its wake…
I remember at Space City Con when I asked him what got him into Steampunk, he said, he wanted to create a character with a cool steampunk cos play outfit people could dress up in. He saw a captain's coat at Comic-con that fit him. So he has to change the character because he really wants to wear that coat. The steampunk fantasy series also includes lots of airships, crystals, and goggles. It's been said the Cinder Spires series is a kind of league of extraordinary gentlemen meets Sherlock meets Hornblower. He said, "It's Steampunk Opera." And he also mentioned how much he enjoyed writing the airship battles. So it sounds like a fun read.
I've only read the first chapter of The Aeronauts Windlass, I read that while in line at the book signing. But as soon as I finish it I'll post a review here. Jim Butcher is always great at book signings and con panels and if you get a chance to see him you'll want to take that opportunity.
For more Steampunk Fiction visit my website
MaeveAlpin.com